Article By Jeremy Wall
NEO, the Chinese blockchain platform and cryptocurrency designed to build a scalable network of decentralized applications, has piqued the interest of their community of followers, traders, and users as details of NEO 3.0 will be announced next month during the second Seattle DevCon event on February 16, 2019.
In addition to new NEO 3.0 announcements, this event will feature demonstrations of new use cases, applications, and important developments.
NEO DevCon 2019
NEO DevCon is the most highly anticipated annual event held and organized by the NEO foundation and contributors in the ecosystem. The event is a forward-looking premium summit for developers to show their contributions to the space and showcase new decentralized applications (dapps).
Per a post from the NEO DevCon website, the conference should be very exciting:
"At the conference, NEO Foundation and its subsidiaries will announce roadmap and plans for the future. Industry experts from top tech companies and leading scholars will share their insights on "decentralization", "Layer 2", "distributed storage" and other blockchain-related frontier topics."
View image on Twitter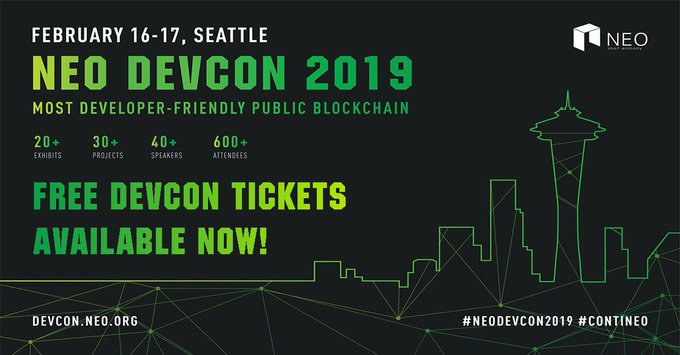 NEO Smart Economy

@NEO_Blockchain

Lots of challenging tasks ahead for the NEO 3.0 development, NEO is calling for talented developers and students to join #NEODevCon2019. Submit your request on Github, #NEO is offering you free tickets upon review.
Detail instruction via the link: https://neo.org/blog/details/4128 …
82 people are talking about this
Twitter Ads info and privacy
As stated in the tweet above, NEO is offering free tickets to talented developers and students alike in an effort to spark excitement and encourage growth in the community. NEO is always looking for talented developers to join their ecosystem and NEO DevCon is the perfect place for this to happen.
For any developers interested in getting into the blockchain and cryptocurrency industry, NEO offers a viable place to start:
"NEO is one of the most developer-friendly public blockchain projects and decentralized application platforms, offering robust infrastructure,  a variety of APIs and SDKs, a comprehensive smart contract system and easily accessible support to community developers."
NEO 3.0 Will Be the Most Important Update of All Time
NEO co-founder Erik Zhang is very excited about NEO DevCon and has said on numerous occasions that there will be some big announcements, particularly revolving around NEO 3.0.
I will announce some important improvements in NEO 3.0 on #NEODevCon2019. https://bit.ly/2B7s11Z 

Twitter Ads info and privacy

A Complete List of Guest Speakers & Agenda for NEO DevCon 2019 Came out — All Big Names

NEO DevCon 2019, a top developers' conference held within the NEO ecosystem is coming to Seattle, the US on February 16 and 17, 2019. Now…

medium.com
143 people are talking about this
Not much is known about the exact details of NEO 3.0, but back in July 2018, Zhang shared some highly insightful information that leads us to believe the update will be huge:
"NEO 3.0 will be an entirely new version of the NEO platform built for large scale enterprise use cases. It will provide a higher TPS and stability, expanded APIs for smart contracts, optimized economic and pricing models, and much more. Most importantly, we will entirely redesign NEO's core modules."
Moreover, in an interview with CCN, Zhang mentioned that the NEO 3.0 update might be so dramatic that it can't even be implemented via hard fork. He further stated that they might even build an entirely new blockchain.
"NEO will have a major update next year, which is NEO 3.0. To upgrade to NEO 3.0, we need at least one hard fork. We might even propose to start a new blockchain network, then migrate all the old data to the new chain."
Whether NEO will build an entirely new blockchain or not is yet to be determined, but it's highly likely that the answer to this question will be revealed at the upcoming NEO DevCon in Seattle.
The Future of Cryptocurrency
In the same interview with CCN, Zhang was asked where he saw the future of cryptocurrency going, and if traditional financial institutions are right to fear it.
Zhang responded by saying that a large majority of financial institutions are already exploring the applications of blockchain technology in their financial operations.
However, he then carried on to say:
"I don't think traditional financial institutions can make any real achievements in the blockchain field. Because in my opinion, the nature of the blockchain is to reduce the cost of trust transfer through decentralization, and the nature of traditional financial institutions is to create trust through a centralized authority. These two ideas are contrary to each other and difficult to unify."