Article By Mark Emem
Russia's third-biggest bank by assets Gazprombank has elected to freeze the bank accounts belonging to Venezuelan state oil firm Petróleos de Venezuela, S.A. (PDVSA), Reuters reports.
Citing sources, the report indicated that the state-owned lender did so to lower its risks of coming under U.S. sanctions. Alongside China, Iran, Turkey and other countries, Russia is one of the strongest supporters of Venezuelan president Nicolas Maduro.
Last month when Venezuela's National Assembly head, Juan Guaido, declared himself interim president the four voiced their support for Maduro.
This was contrary to the position taken by the United States and other western powers. Gazprombank's move to freeze PDVSA's accounts is thus likely to be seen as a blow to the embattled Venezuelan president.
PDVSA SAYS REPORTS OF GAZPROMBANK FREEZING ITS ACCOUNTS IS FAKE NEWS
PDVSA has, however, refuted the reports of its bank accounts being frozen by the Russian financial institution terming the development as 'fake news'.
View image on Twitter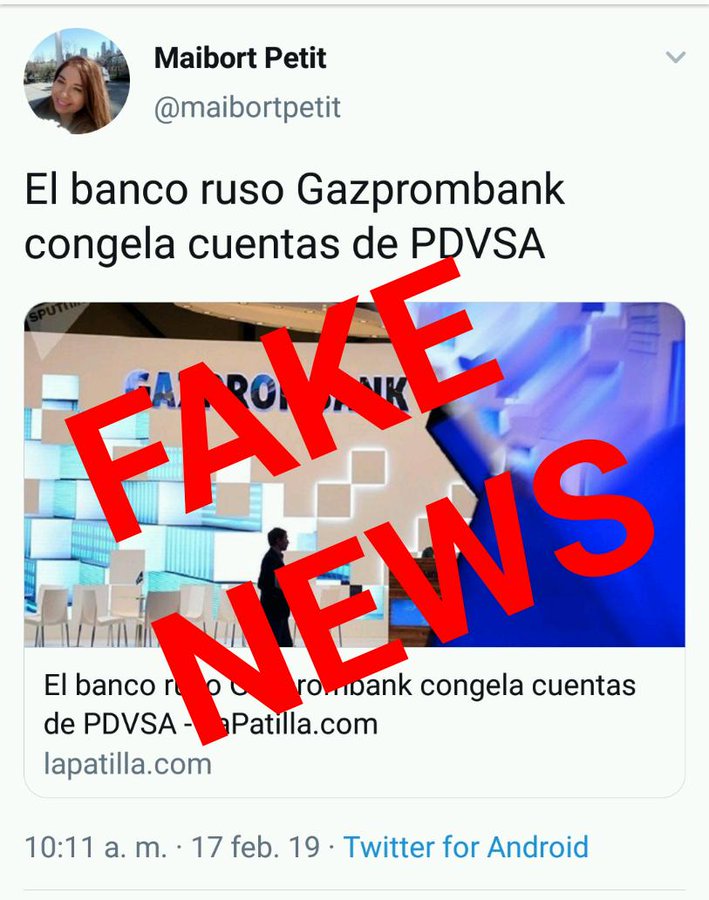 #FakeNews PDVSA nuevamente es atacada por personeros afectos a la derecha apátrida y por medios estadounidenses || Hoy, y siempre seremos la fuerza que impulsa la Nación y luchamos día a día por la soberanía del pueblo venezolano.
146 people are talking about this
Twitter Ads info and privacy
Fresh sanctions against PDVSA were announced late last month by the U.S. The sanctions are an attempt by the Trump administration to deny the Maduro regime access to oil revenues. This follows the Trump administration's recognition of Guaido as the interim Venezuelan president. Immediately after those sanctions, the PDVSA informed clients to deposit the proceeds of oil sales to Gazprombank accounts. If confirmed, Gazprombank's freezing of the accounts would thus be a devastating blow to PDVSA.
NOTHING PERSONAL, JUST BUSINESS, SAYS GAZPROMBANK
The move by Gazprombank to abide by the U.S. sanctions despite Russia's pro-Maduro stance is an indication it has chosen business over toeing the Kremlin line. It is a pragmatic move as U.S. sanctions can have a devastating effect on its business. For the Russian lender, the sanctions imposed by the 'global cop' could mean restrictions when raising financing from Americans. Gazprombank has already had a taste of this as it was placed under similar sanctions five years ago.
Aware that the dollar monopoly is what makes U.S. sanctions effective, there have been attempts to undo this hegemony.
THE U.S. DOLLAR IS NOT LOSING DOMINANCE ANYTIME SOON
Last year, for instance, Sergei Lavrov, the Russian Foreign Minister, said the dollar monopoly was being abused. Consequently, he predicted that the use of national currencies in international trade whenever they can would become fashionable:
I'm confident that such a gross abuse of the role of the U.S. dollar as a world reserve currency will undermine that role. To be on the safe side, more and more countries, even the ones that are not affected by U.S. sanctions, will gradually stop using the dollar and rely on more dependable partners with whom they can agree on using their currency.
So far, however, attempts to dismantle the dollar monopoly have been largely ineffective. Last year in June for instance, the share of the dollar in global payments reached 39.35%, according to Bloomberg. The renminbi, which China would like to occupy a more prominent global position fared poorly. The share of global payments carried out in the renminbi averaged 1.81%.